Protect Your Animals with Outdoor Web Cameras
|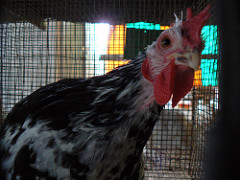 Lots of people have farm animals that they are responsible for. It isn't always possible to keep an eye on them 24 hours a day so you 'll need help to keep your animals safe from predators. One of the best ways to do this is with outdoor digital web cameras. There are now cameras that come with night vision that can keep an eye on your chickens, ducks and other farm animals. You will be able to see if anything is disturbing them when they are at rest. Many predators that prey on farm animals like chickens and ducks, come out at night. When you have a camera that can see in the dark you will be ready to defend your animals.
There are several backyard web cameras available that will get the job done. Many have high ratings from other users. They have freely given their opinions and have chosen the following cameras as being one of the best. Some backyard web cameras are expensive but most are very reasonable. Most will have night vision and Wi-Fi. They are made to easily mount on barn walls or house walls.
The Y-cam Bullet HD
carries high ratings from other users of this product. It weighs less than five pounds. It has a built in motion detector so any movement will start the camera. You have a choice of letting the camera run constantly or when it is triggered by movement. It has color and night vision and audio. If your animals are disturbed you will be able to get the audio disturbance from your camera.

Panasonic has an outdoor, backyard web camera too. It has two way voice communications, it is wireless and will record directly onto SD cards. It has a timed recording so you are in control of when the camera is running and taking video shots of your animals. It is weatherproof and designed for outdoor use.

Logitech has a great outdoor camera that gets high ratings. It is
priced to sell. You will get night vision and 130 degree wide angle lens so you can see more. It is also motion triggered so you don't get unnecessary footage. It can be set up to feed directly onto your computer.

The VideoSecu Bullet Outdoor Camera will give you great security. It is weatherproof so it is perfect for outdoor use. You will get great night or day vision. It will automatically switch from daylight vision to night vision when the lighting drops low enough.
You can know what is happening to your animals or garden at all times. Is there a culprit stealing from your garden? Are your animals being harassed at night?You can find out what the culprit is with backyard web cameras. There is no reason that you have to accept losses to your chicken population or to your gardens. If your ducks are coming up missing you can discover what the predator is and eradicate it. Take action by installing backyard web cameras today. You will be happy with the results. Check for top rated cameras. Read reviews and you will be able to get a great product.
---