Is There A Ban On Selling Animals On Facebook?
|
True or False?
Is there a ban on selling animals on Facebook? The answer is yes. You can see on Facebook's Commerce Policy that they have added a ban on selling animals. It's number 5, right between selling adult items and weapons. This ban seems to have gone into effect the first of April, 2017.
On the one hand.

We all support and want to take of the animals we love.

On the other

We need a safer marketplace to sell and find them a new home.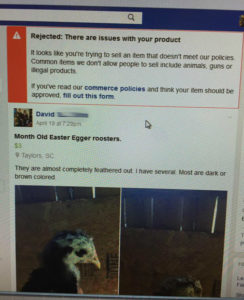 There is always Craigslist we can use to sell animals but many people don't feel comfortable doing that because they can't prescreen who may buy their animal. Also the whole "CraigsList Killer" and such.
The bottom line is that we all want to be sure that our animals go to a good home. The well being of our animals is the first and primary goal.
This being said, this is why we like what our friends over at The Farmer's Yard Sale are doing. They started a simple site that allows people to sell animals, homemade items, ad various items that we can't sell on Facebook anymore.
You can register and use the site for free, and not have to worry about your animals adds getting taken down.
Check them out at http://FarmersYardSale.com
---