Ways To Grow Food Indoors During The Winter
|
Once the frost kills our last pepper plant and a blanket of white snow coats the ground, many of us long for the taste of a delicious, plump, fresh tomato from our own gardens. Nothing beats it! Given the rising price of food, a family can really save money by growing their own produce as well. The good news is that with minimal investment, you can be growing food indoors all winter long. This is part of our Back to Basics and Community Gardens series.
What You'll Need To Grow Food Indoors During The Winter:
An area near a window (to allow for natural sunlight)
A flat surface or shelf (to put your pots on)
Pots or containers (to put your plants in)
Clear plastic (to keep dirt off the floor)
Reflective white paint or mylar (to put on the walls or the area around the plant)
High intensity grow lights (for those days when the sun is just not shining)
Seeds (of herbs and vegetables that are easy to grow indoors)
Potting soil
Watering can
Best Foods To Grow Indoors:
| | | |
| --- | --- | --- |
| • Avocados | • Garlic | • Parsley |
| • Basil | • Green beans | • Potatoes |
| • Bell Peppers | • Green onions | • Radishes |
| • Carrots | • Lettuce | • Rosemary |
| • Chives | • Mushrooms | • Tomatoes |
| • Eggplant | • Oregano | • Thyme |
Equipment To Help You Get Started: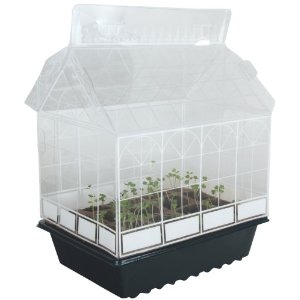 Many beginners find it's easier to start with a kit such as the AeroGarden, the Topsy-Turvy, an Indoor Seedling Greenhouse, Organic Mushroom Kits, or the SunLite Tabletop Garden.
Tips For Indoor Gardens:
Remember that the sun rises in the east and sets in the west, so plan your window accordingly.
Plants that need a lot of sun do best in a window facing north / northeast.
Plants that are part-sun or shade may thrive better with a scrim over the window.
Water plants from the bottom up by standing them in a dish with water (to ensure the roots get wet).
Keep the room temperature at least 60 degrees and mist the plants with water if your air is dry.
Apply fertilizer every 2-4 weeks for most plants (except for peppers, which don't like fertilizer).
Use ice cubes embedded in the soil to water your plants regularly at a steady rate.
Make sure you buy a fresh batch of seeds each year, as older seeds don't sprout as well.
Insulate your pot with a folded newspaper "blanket" or bubble wrap held in place with a rubber band.
Use luke-warm water for your plants, as icy water in the middle of winter may distress them.
Additional Resources:
Gardening Indoors with Soil & Hydroponics
---