To determine whether your garden soil is ready for seeds, grab a good handful of it. If you can form it into a ball, the soil is too wet. If it crumbles through your fingers and reminds you of chocolate cake, it's ready for planting!
For more tips and our soil temperature chart, click here.
One 80-year-old farmer said it very simply: "I just wait until I see the weeds starting to grow in my garden. Then I know it's time to plant."
Need to improve your soil? See tips on soil fixes and soil amendments.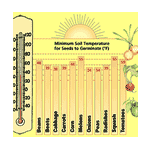 Do you use manure? Manure creates nutrient-rich, moisture-retaining soil for your plants. To find out when to spread what, consult our Manure Guide.
See all of our free "Starting Your Garden" articles and reference guides here.
Ready to plant? Use our free 2010 Seed-Starting Guide-customized to your local frost date and including the best days to plant in the light and dark of the Moon.
Frame Gardening
Gardeners use frames to "harden off" seedlings that were started indoors or to start their vegetable plants from seed outdoors. See how to make a cold frame and a hot bed.
This article is courtesy of the "Tybee Island Community Garden". For more information please join their Facebook group.
---