Thinking About Being A Backyard Farmer? Try Renting A Chicken.
|
Backyard farming is nothing new, but what if you could test out the idea first? One local company is allowing you to do just that.
Idaho Hens allows would-be farmers to rent chickens. They provide the hens and you get to keep the eggs.
Beans, corn, peppers, and carrots aren't the only things found in a garden anymore. Backyard chickens are starting to become popular.
"I think a lot of people are interested these days in sustainability and have their own food source, being able to pick it up fresh," Idaho Hens Owner Tiona Marburger said. "They want to eat local."
Marburger said the rental chickens stay with their new families during the warm months, and are picked bac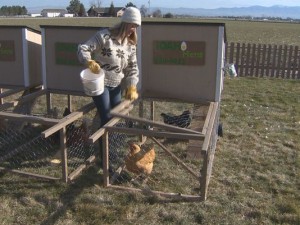 k up by Idaho Hens when winter approaches. The renters can elect to buy the laying hens at the end of the season or arrange to have them brought back next year. Growers are provided with hens, a portable coop, feed, bedding, and containers.
"It's for a 6 month period for all the good months of the year where it's good weather, so from April until the end of October," she said."I think with the chickens if you're going to try before you buy, it's a great deal because you don't have that much invested in it."
See the rest of the article at USA Today.com Not sure about backyard farming? Rent a chicken first
---