The Horticultural Legacy at Biltmore
|
OLMSTED'S LAST LANDSCAPE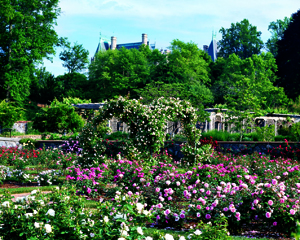 In the shadow of Biltmore House, America's largest private home, are some of America's finest formal and informal gardens. Here, too, is the birthplace of the first scientific school of forestry in the United States. And it is at Biltmore Estate that this country's father of landscape architecture, Frederick Law Olmsted, designed his last and largest project more than a century ago.
Olmsted had completed New York's Central Park and landscaped campuses at Boston University, Yale and Stanford before he was approached by young George Vanderbilt in the 1880s. Vanderbilt, grandson of industrialist Cornelius Vanderbilt, had already begun purchasing land, which would eventually total 125,000 acres around Asheville, North Carolina.
Vanderbilt had also retained architect Richard Morris Hunt to design Biltmore House, a 250-room French Renaissance chateau modeled after the great French chateaux of the Loire Valley. While Hunt began work on Biltmore House, Vanderbilt challenged Olmsted to transform the over-farmed, over-logged land surrounding the site of the house into a country estate, the landscaping equivalent of Hunt's grand creation.
Olmsted, Hunt and Vanderbilt worked very closely with one another, recognizing the potential grandeur, which could result in the harmony of land and architecture at Biltmore. At age 66, Olmsted began his last opportunity to create a great arboretum and park in the English tradition.
THE VISION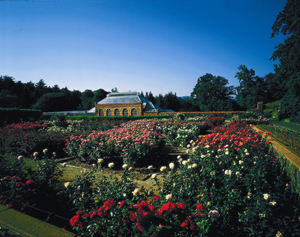 In keeping with Vanderbilt's vision of a working estate, Olmsted laid out plans for a large farm. But more impressive were the planned woodlands, fields and gardens, employing the European pastoral and picturesque modes of design, yet enhanced with Olmsted's own naturalistic style. Included in the plans were several formal gardens—a four-acre Walled Garden, a 16th-century Italian Garden with three reflecting pools, and a dramatic Rampe Douce and Esplanade lined by an avenue of trees at the entrance to Biltmore House.
In addition to these more formal touches, Olmsted also planned a Shrub Garden or ramble, pools, a Lagoon and an elaborately designed three-mile Approach Road, implementing the best of Olmsted's style.
A master of naturalistic landscaping, Olmsted found Vanderbilt's estate provided him with an array of indigenous flora with which to shape the grounds—rhododendron, mountain laurel, deciduous azalea, hemlock and pine. To these he added the rare and exotic, in true Victorian fashion, creating a unique horticultural setting. A large-scale nursery was established to grow the millions of plants and flora that would be transplanted in the extensive garden throughout the next decade.
PISGAH NATIONAL FOREST
After George Vanderbilt's early death in 1914, a large portion of the original estate was obtained by the U.S. government, forming the nucleus for Pisgah National Forest. Because Vanderbilt, along with German forester Dr. Carl A. Schenck, established the Biltmore School of Forestry here in America—this seems a fitting legacy to the man behind Biltmore.
LANDSCAPE STAFF TODAY
Today, Biltmore's forests, grounds and gardens reflect Olmsted's plans from nearly a century ago. Estate staff manages approximately 5,000 acres of forest and woodland as well as maintain the estate grounds and greenhouses. Their jobs include pruning some 80 varieties of roses in the Rose Garden, planting 50,000 tulip bulbs in the Walled Garden each year, raising and planting 20,000 bedding plants annually, and growing more than 1,000 poinsettias to decorate Biltmore House every Christmas.
In addition to routine gardening and grounds keeping, Biltmore gardens staff are also heavily involved in landscaping restoration projects, implemented in an effort to maintain the integrity and intent of Olmsted's original plans for Biltmore. In 1991, staff was involved in the restoration of an intricate flume system beneath the Bass Pond planned by Olmsted. This enabled Vanderbilt to control silt buildup in the pond so that the water retained its clear, clean quality. The project returned the Bass Pond to its original state.
THE DETAILS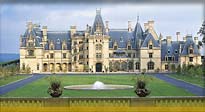 Biltmore Estate is located near the intersection of Interstates 26 and 40. Entrance to the estate is three blocks north of Exit 50 or 50B on Interstate 40. Admission to the estate includes Biltmore House, gardens and winery and enables the estate to remain private and self-sufficient, receiving no governmental funding or grant monies. For guests who enjoy visiting Biltmore every season, Twelve Month Passes, providing year-round admission, are available. Prices for Christmas at Biltmore Daytime and Candlelight Christmas Evenings may vary from regular admission prices.
---