by Debra Graham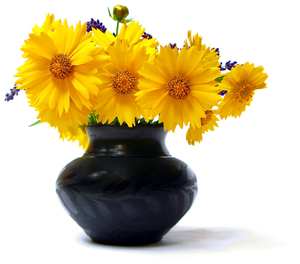 With economic news in the headlines every day, we can't help but worry about our wallets, hyper-thinking every purchase we make, if we even make it at all! What may have been a fun impulse purchase once upon a time, may now have been relegated to an occasional treat.
But fresh flowers should not be one of those items that is tossed onto the 'special occasion' heap. A recent Rutgers study has been conducted to show the true effects of flowers on mood, sociability and well-being, both mentally and physically.
The study focus was to ask whether giving flowers improves people's moods, not just upon receipt but whether the feeling continues into the future. This survey asked 147 women to participate in a study about "normal daily moods" with no mention of flowers. They would be given thank you gifts at the end of the study, but not told what the gift would be.
The recipients were then divided into thirds, with each group receiving a gift of either flowers, a fruit basket or a candle, of equal dollar value. Upon receipt of the gift, the study showed that 100% of the flower recipients smiled, while only 90% of the fruit basket recipients smiled, and even lastly, only 77% of the candle recipients.
Days later, when interviewed on the telephone again, only the flower receivers scored significantly higher on the mood questionnaire.
Studies have also been conducted in nursing homes and retirement communities. Those results were very clear in showing that residents who received flowers were much less depressed and more social than those who did not. Additionally, it has been found that hospital patients generally healed sooner when they were the recipient of flowers.
An unfortunate trend of late is the "in lieu of flowers" notation in obituaries. While it is understandable and commendable for the bereaved to want donations made to favorite charities, the healing power of flowers should not be underestimated. Imagine going to a funeral and seeing no flowers!
Flowers have traditionally been included in celebrations and observances of all kinds over the ages- whether to mourn, to celebrate, to acknowledge a good deed, to speed recovery, flowers just make sense in every way!
Why not take a moment to make someone's day today? Send flowers for no reason at all! And the best way to do that is to call your local florist. You'll get the the best value for your hard-earned dollars, and keep the currency working in your community- which is even more important than ever!
Debra Graham is a certified floral designer and Master Gardener, owner of Bloomers Floral Design in Wilmington, NC. Debra can be reached at : bloomersflorist@yahoo.com,
www.bloomerswilmington.com , and 910-815-8585
Related posts: